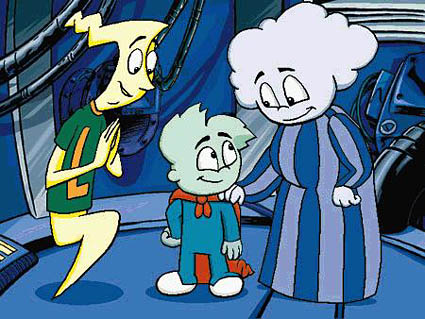 Exam results have come, Christmas has passed and the New Year has arrived, complete with already-broken-resolutions. Mine, with part stolen from Stephen Briggs, includes:
- never, ever go to Mcdonalds ever again.
- achieve some form of fitness.
- grow through the ceiling.
- be nice. seriously, be NICE.
....original, obviously. Spent an amazing New Years eve at the Marion Bay Falls Festival with some incredible people and incredible music. Boy and Bear, were definately up there on my "To Marry" list, along with A & J Stone and Joan Jett. We had a fantastic camping neighbour too, known to us only as 'Aquaman'. He nicknamed us as well, mine was quite rightly 'Meldrum'. OH, and the Bedroom Philosopher was brilliant also. I arrived home sun burned, sun stroked, and sun maimed, feeling incredibly untalented.
The other day I found my old 'Pyjama Sam - Thunder and Lightning Ain't So Frightning' computer game. Spent a good few hours playing it, which culminated into another good few hours wallowing in nostalgia, contemplating the rest of the Humungous Entertainment games; Putt Putt, Spy Fox and Fatty Bear amongst them. It might be due to finally completing grade school, but this isn't a one off case. The same thing definately happened when I resurrected my childhoood book collection: Hello there Paul Jennings, Judy Blume, Andy Griffiths and Enid Blyton. Escaping into adventures with the Naughtiest Girl In School and Singenpoo sparked memories of Mr. Chum Chums the Tree, Spaghetti-and-Sausages-in-a-Can and watching "Matilda" several times a day.
Touching back down to dear-lord-im-almost-an-adult-kill-me-now world, all that awaits me now is University offers. Fingers crossed for one from Uni of Melbourne!